Buy Online
Portable and Desktop Printers and accessories, we only sell the best on the market.
Portable Printers.
Desktop Printers.
Label and Ribbon Consumables.
Standard & Custom labels.
Brady Product Catalogues.
The Brady product catalogues have now been split into 5 mini catalogues
Product Catalogues.
Printers
Workplace & Facility Safety
Lockout Tagout
Safety Signs
First Aid
To request a catalogue, simply email info@jabac.com.au and we will post out the catalogue to your nominated address. Alternatively you can click the below button to view online.
Jabac is a major supplier of all MCF MERC signs and is a preferred supplier to Telstra and other carriers. Jabac stocks a large variety of MERC signs, Brady labels and identification.
The Mobile Carriers Forum (MCF) has produced an industry wide RF EME signage document, "MCF Preferred Site Signage", detailing RF warning signs and placement for all carriers.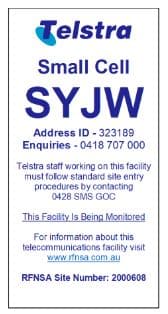 Workplace Safety
Jabac is the original source for all your workplace safety needs.
Safety Signs.
Lockout Tagout.
Pipe Markers.
Visual Aids.
First Aid Kits