Custom Brady Labels, Safety Test Tags, & Asset Labels
Did you know? Just about everything at your workplace needs to be identified quickly & easily! Whether you need a few one off workplace signs for your small office, or you need 10,000 customised Brady labels for identifying the wiring of a new multilevel building, Jabac has the largest range at great prices. Every product, every cable, every asset needs to be identified in some way so that your business can effectively track, manage and identify everything quickly and easily. Have a good look through our vast range of common and standard Brady labels, test tags, and identification that will suit most applications.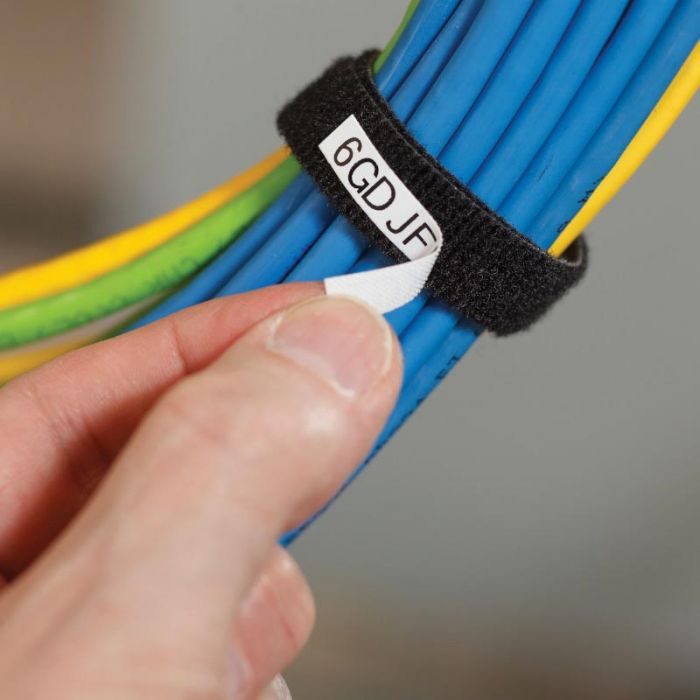 Customisation
Customisation
The main reason our customers keep coming back is for our specialist and customisation abilities. Featuring just in time capabilities, Jabac can provide manufacturing for custom requirements of all types of Brady labels, test tags & safety signs in standard and nonstandard sizes, any text, picto's whatever artwork you require. Depending on the material we can produce short or large volumes – if you can think of it, we can make it rapidly and cost effectively.
Jabac also provide a turnkey printing facility for cable wraps or labels to Barcode Sequential asset labels, specialising in the telecommunications sector. We also offer a full Engraving/Etching service.
Send us your requirements and we will get back to you with our competitive pricing and turnaround times for your custom labels.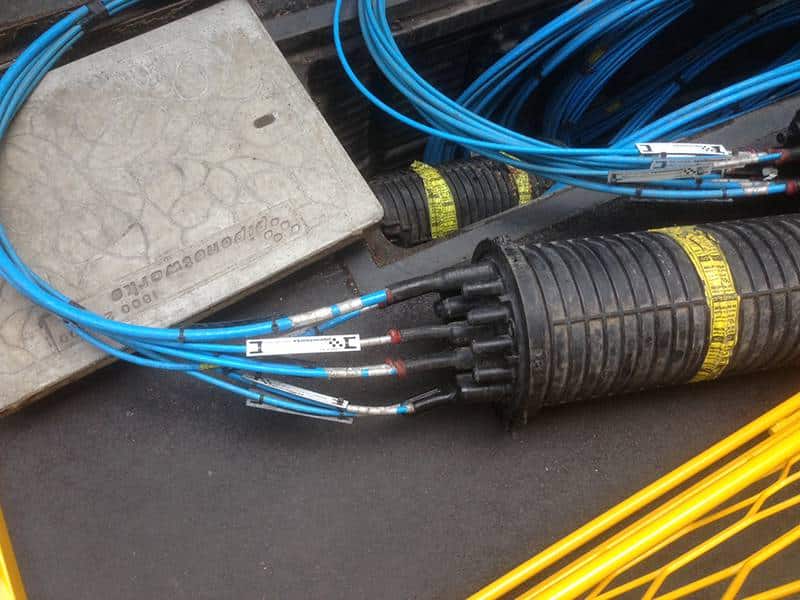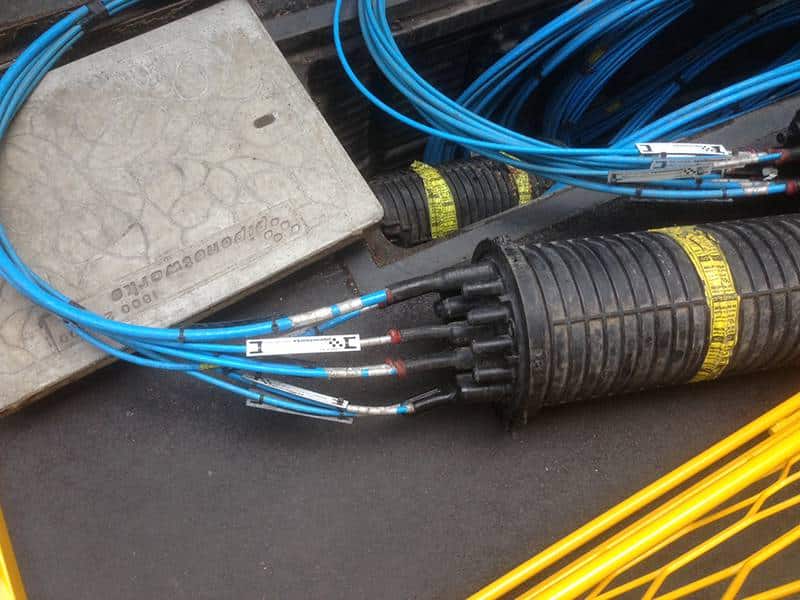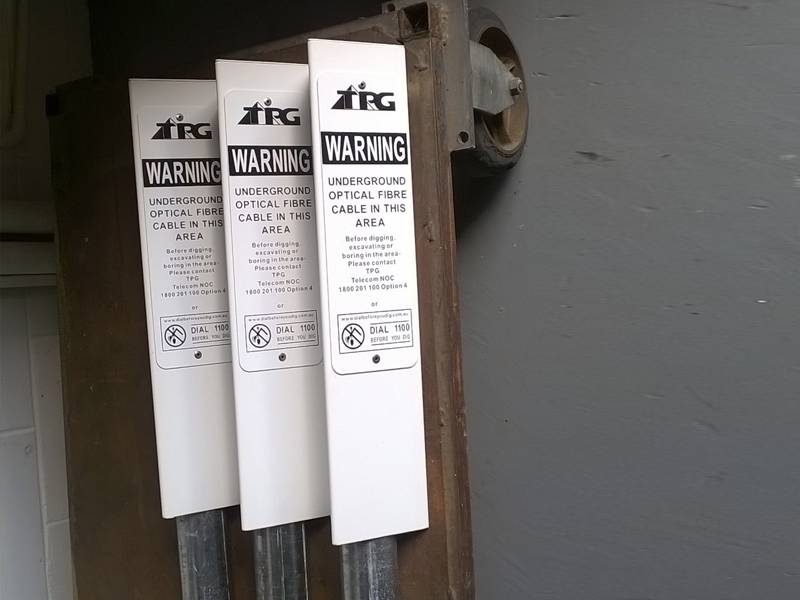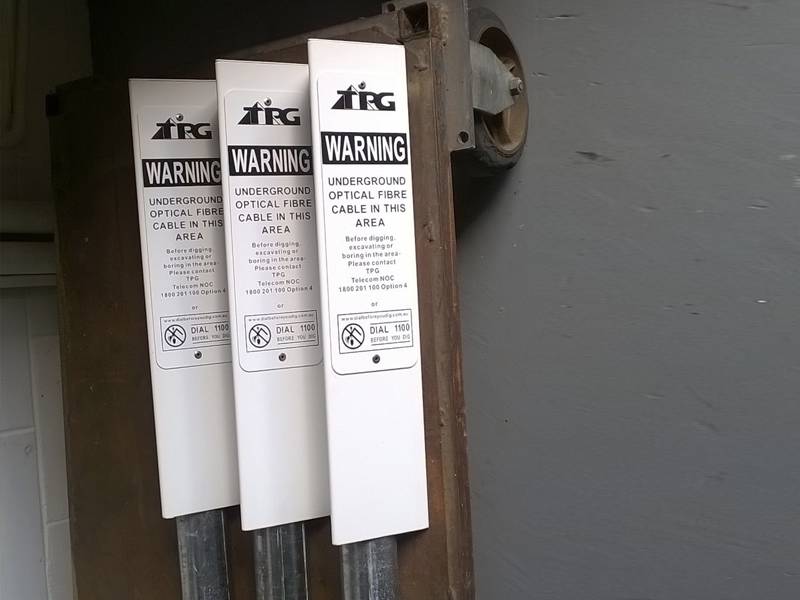 Excellent Pedigree
Jabac have produced custom signs and Brady labels for some of the top telecommunication companies in Australia (Telstra, Pipe Networks, TPG, Visionstream, Ericsson to name a few). Items ranging from specialised polyester test tags, fibre optic cable marker posts to numerous telecom safety signs.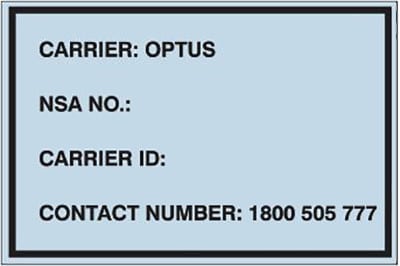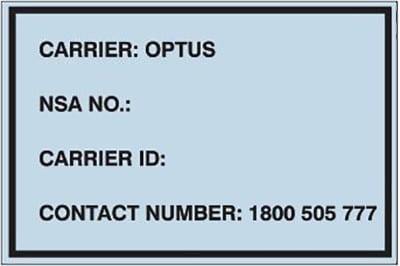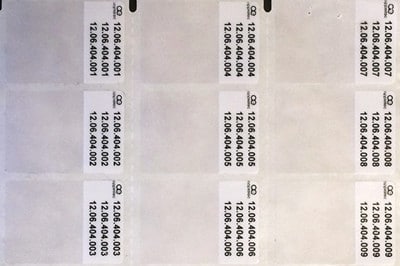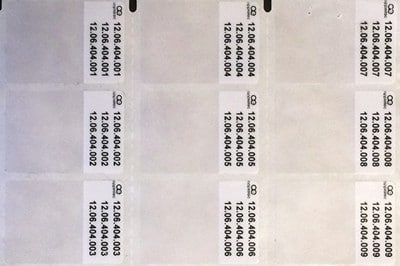 Labels
Labels
Jabac's virtually never ending range of customised Brady labels is generally in stock to suit all your needs when it comes to identifying goods and services. From enquiry to order, you can be assured that you'll get a great product, at a great price and delivered to your door quickly. Our range includes:
Electrical and Data Cable Labels
Asset Labels and Hardware Labels
Product Labels
Barcodes
Other customised labels – you think of it, chances are we've got it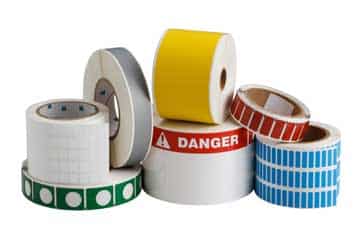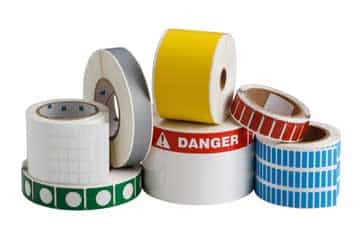 A label is: "Provision of information written on a piece of material attached to an object giving pertinent information about said object"
And for most businesses, this labelling process, whilst quite simple, is also so important to its smooth operations and functions. Whether you are labelling a product, tracking assets with metal labels, to notifying telecommunications staff which cable belongs to which telephone, to safety labels on dangerous goods, correct labelling is vitally important for all businesses.
Jabac has the largest range of labels suited to all businesses in all industries.
Have a look through our extensive range to find the one that best meets your needs, or talk to one of our Brady label specialists to ensure the efficient running of your business and transporting of products to clients.
Electrical and Data Cable Labels
Effective labelling of any type of cable is vital to the effective running of offices, warehouses and premises. Jabac has a large variety of cable labels to suit all your wiring and cabling needs:
Cable Labels
Wire wraps and Cable wraps
Self-Laminating & Wrap Around
How to choose the correct Self-Laminating Label
Step 1: wire dia. x 3.147(pj) wire circumference
Step 2: wire circumference x 1.5 total label length
The reason for multiplying by 1.5 allows the cable label to wrap around the wire 1.5 times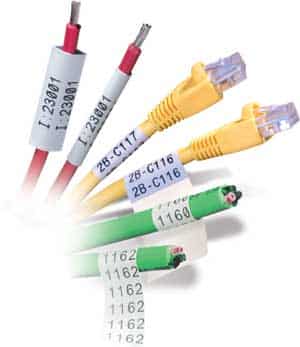 Product Labels
Nearly every product needs a label. Whether it's a product you sell to a customer, or it's an internal product you use, you need to accurately and effectively label nearly every product you have. That's why we can provide the largest range of product labels to suit virtually any requirement.
Standard White Polyester
Paper
Tamper Proof
Asset Labels and Hardware Labels
Because you need to track, maintain and count all assets and hardware in your business, Jabac has the industry leading, non-destructible hardware and asset label solutions for your business.
Metallised Labels
Duraguard® Property Identification Tags
ToughWash Labels
Food and beverage production is one of the most difficult and demanding environments for workplace safety products and identification. Harsh wash down cycles, chemical sanitizers, and constantly wet environments present reliability challenges for the products designed to keep your employees safe. In order to meet these challenges Brady's R&D team have designed unique ToughWash Labels from the ground up. More info »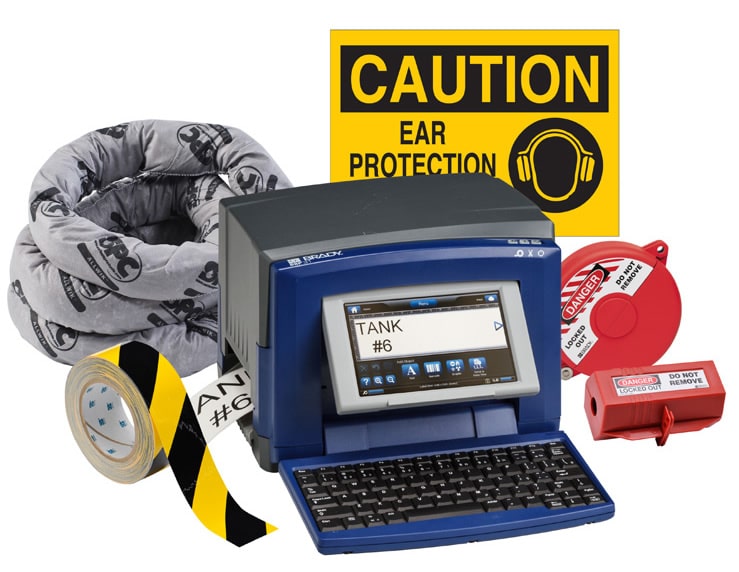 Pipe Markers
Pipe Markers
Pipe markers allow for improved emergency response time and a professional appearance. Brady's range of pipe marker products are designed in accordance with AS1345-1995 and enable quick recognition of pipe contents.
A successful pipe identification program helps employees, contractors and emergency responders to distinguish between pipes where there are several side by side. Pipe markers also save valuable time when tracing lines for maintenance and especially in emergency situations.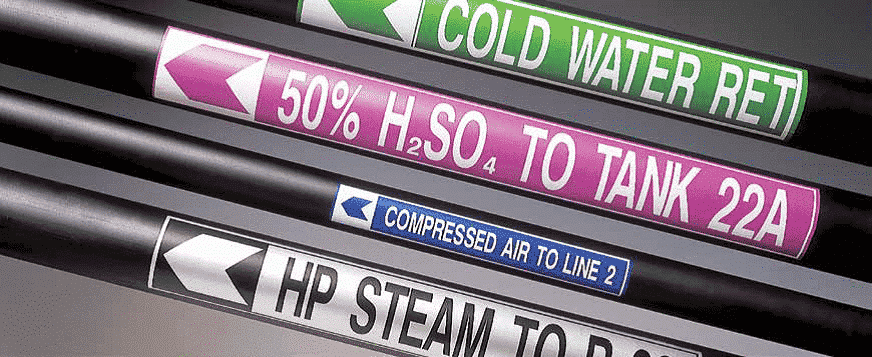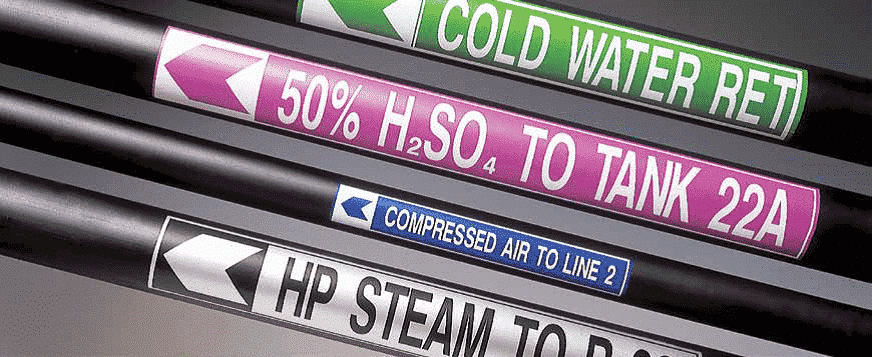 Where would pipe markers be located?
Australian Standards (AS 1345-1995) specifies that markers be placed adjacent to all junctions, valves, service appliances, bulkhead and wall penetrations. Pipe markers shall be spaced no more than 8m apart except for long, uninterrupted straight runs of external services where spacing shall not exceed 50m.
Use the table below as your pipe marker colour selection guide: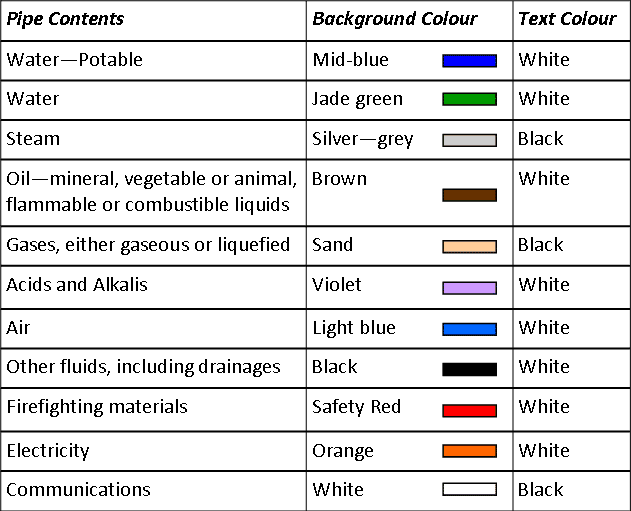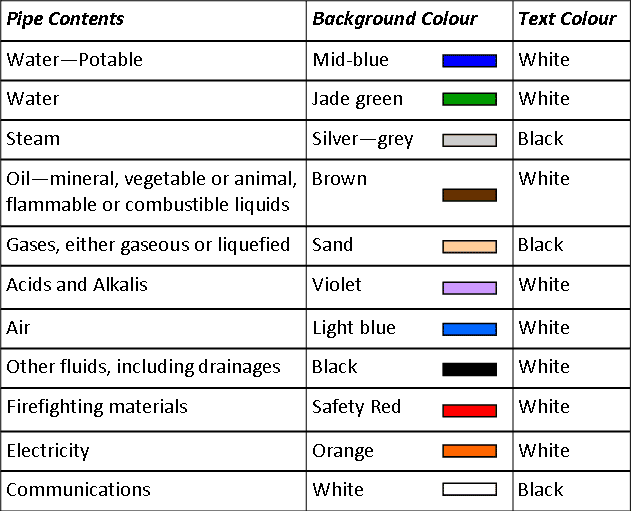 Our pipe marker sizes meet Australian Standards and are listed below:



LARGE 475x60mm – to suit pipes over 70mm diameter.



MEDIUM 475x35mm – to suit pipes 40-70mm diameter.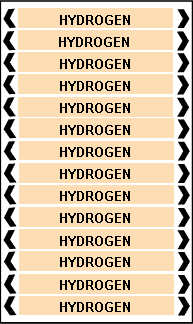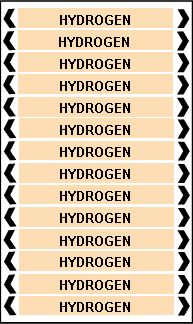 SMALL 100x200mm – to suite pipes under 40mm diameter (supplied 14 labels per sheet and are designed to be wrapped around pipes.
Brady ToughStripe Tape
Brady ToughStripe Floor Marking Tape
Brady ToughStripe Floor Marking Tape is the MOST durable, toughest floor marking tape on the market. It also happens to be the easiest to use. ToughStripe products are made with a new polyester material. This material is ideal for marking aisles, passageways, storage locations, and pointing out important safety equipment and egress paths. This polyester material is 2mm thick, has a service temperature range of -18°C to 54°C and resists harsh chemicals.
Superior Durability
Spend less time replacing damaged or worn lines for a better looking, more efficient facility.
Withstands forklift traffic without tearing or lifting
Low-profile design minimises tears and scratches from skids, pallet jacks, etc.
Rugged polyester with ultra-aggressive adhesive
Easy application
Quickly lay down smooth, straight lines – without the help of co-workers.
Can be easily applied by one person working alone
Stiff polyester with liner prevents tape stretching and reduces wrinkles and wavy, uneven lines
No special floor preparation required – just clean with common cleaners
High Visibility
Get the same visibility of painted floor markings – and pay less.
High gloss surface shines like new paint
Low profile minimises debris build up along the edges that occurs with thicker (extruded) floor tapes
Surface resists marks and smudges
Available in a variety of high impact colours
Painless Removal
Easily remove floor markings without damaging the floor or leaving adhesive residue.
Does not chip and flake when being removed – comes off in one piece
Clean removal without any unsightly adhesive residue of damage to the floor
Floor marking tape available in:
Black, Blue, Green, Orange, Red, White, Yellow, Black/White, Black/Yellow, Red/White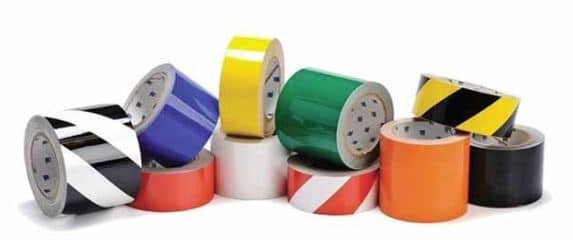 Underground Service Warning Tape
Detectable and Non Detectable AS/NZS 2648 Underground Service Warning Tape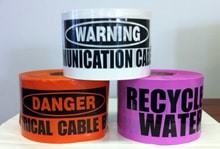 Made from extra-strong virgin grade polyethylene, with lead free pigments (so they won't discolour) and high degree of pH soil tolerance they are manufactured in accordance with AS/NZS 2648.1 1995 and AS/NZS 4275 Part 0 1995.
Underground marker tape should be laid as per AS/NZS standards typically over underground services halfway between the service and the surface in the trench so that a warning can be given before any damage to the service is caused during a subsequent excavation – probably years later.
Detectable Underground Service Warning Tape
Available in the two most popular styles Electrical and Communication warning tapes.
Orange Tape "DANGER ELECTRICAL CABLE BELOW"
Available in 150mm x 500M with .50mm 304 Soft Stainless Steel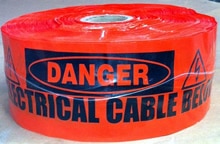 White Tape "DANGER COMMUNICATION CABLE BELOW"
Available in 150mm x 250M and 150mm x 500M with .50mm 304 Soft Stainless Steel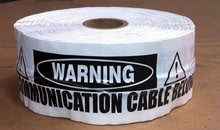 Also available in 100mm x 250M Rolls for the following services:
White "FIBRE OPTIC CABLE BELOW" SS Wire
Yellow "GAS MAIN" SS Wire
Green "WATER MAIN" SS Wire
Violet "RECLAIMED /RECYCLED WATER" SS Wire
RED "FIRE FIGHTING" SS Wire
Blue IRRIGATION" SS Wire
Blue "STORMWATER" SS Wire
Beige "SEWER MAIN" SS Wire
Non-Detectable Underground Service Warning Tape
Available in all the popular services. 150mm x 500M
Orange "DANGER ELECTRICAL CABLE BELOW "
White "DANGER COMMUNICATION CABLE BELOW"
Yellow "GAS BURIED MAIN BELOW"
Green "WATER BURIED MAIN BELOW"
Red "FIRE BURIED MAIN BELOW"
Pale Yellow "SEWER BURIED MAIN BELOW"
Orange "RAILWAY SIGNALLING CABLE BELOW"
Blue "IRRIGATION – BURIED MAIN BELOW"
Blue "STORMWATER – BURIED MAIN BELOW"
Lilac "RECYCLED WATER – BURIED MAIN BELOW"
Special Four Services Tape
Orange 200mm x 500M WARNING TAPE "TELECOMMUNICATIONS – NATURAL GAS – MAINS ELECTRICITY – CABLES"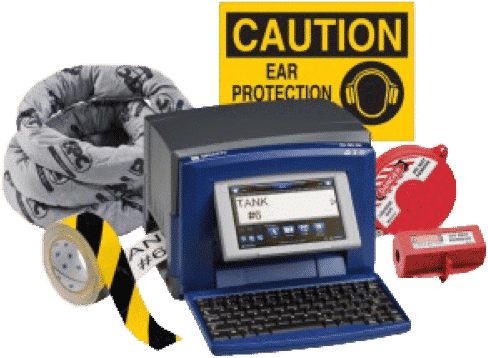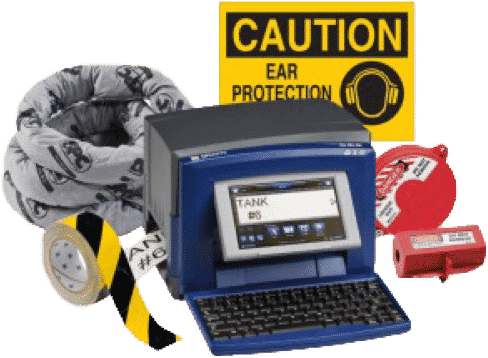 Our leading range of portable label printers feature state of the art technology and are the toughest machines on the market. Whether you want to print a modest 50 labels per day or you want to be able to print 1000 labels per day on site, we have the product for you.