First Aid in Your Workplace
Australian workplaces are required to have appropriate first aid equipment available and accessible for all employees. A workplace is most commonly identified as an office, warehouse, manufacturing facility or a construction site. Trucks, delivery vehicles and company cars also constitute a workplace and require appropriate first aid to be on board.
First Aid Site Assessment
A periodic assessment schedule of your workplace first aid equipment will allow you to identify hazards and determine typical injuries or illness that may require rapid treatment. The assessment should also consider number of employees and work area design as first aid should be easily accessible and available within minutes of the injury location.
Assessment Guidelines For Workplace First Aid
As business operations are constantly changing to meet customer demands your workplace first aid requirements may also require adjustments.
High Risk Workplace
A High Risk Workplace describes an environment where workers are exposed to hazards that could result in serious injury or illness and would require first aid. Some examples include:
Use of hazardous machinery or substances onsite
Extreme heat or cold working conditions
Risk of falls
Hazardous forms of work
Low Risk Workplace
A Low Risk Workplace describes an environment where workers are not exposed to hazards that could result in serious injury or illness. Offices, shops or libraries are common examples and potential work-related injuries and illnesses requiring first aid would be minor in nature.
Safe Work Australia, First Aid in the Workplace, released July 2012.
IMPORTANT COMPLIANCE INFORMATION
All workers must be able to access a first aid kit. This will require at least one first aid kit to be provided at their workplace. See pages 284 for number of kits required for your workplace.
Location
First aid kits should be kept in a prominent, accessible location and able to be retrieved promptly.
First aid kits should be located close to areas where there is a higher risk of injury or illness, If the workplace occupies several floors in a multi-storey building, at least one kit should be located on every second floor.
Restocking And Maintaining Kits
A person in the workplace should be nominated to maintain the first aid kit (usually a first aider) and should ensure:
The kit is fully stocked, monitored and ensure any items used are replaced as soon as practicable after use.
The first aid kit is checked after each use or at least once every 12 months.
All items are in good working order, have not deteriorated or have expired as well as the sterile product are sealed and have not been tampered with.
National Workplace First Aid Kits
All National Workplace First Aid Kits are made in accordance with Safe Work Australia, First Aid in the Workplace Code of Practice and comply to most state regulatory requirements. Featuring industrial quality products that are colour coded and boldly identified in robust and practical cases, to help you find first aid solutions fast and easily in an emergency. Simply choose the kit style that best suits your workplace needs.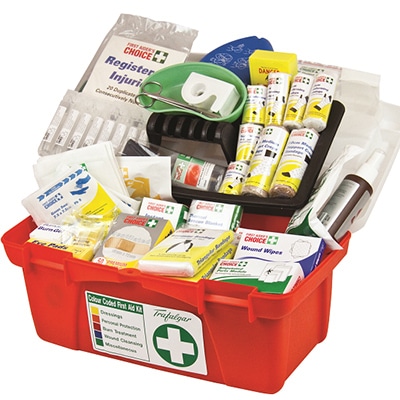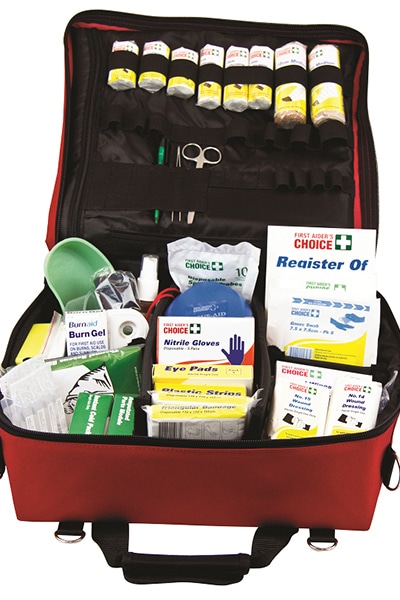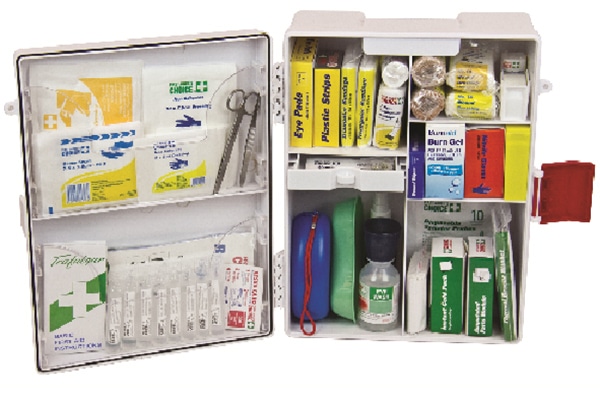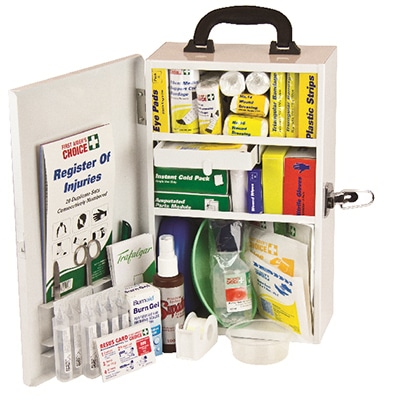 Part No. Case Description Case Dimensions (W x H x D)
873849 – Wallmount ABS Plastic Case – 300 x 390 x 150mm
873850 – Wallmount Metal Case – 240 x 385 x 115mm
873851 – Portable Soft Case – 400 x 350 x 200mm
873852 – Portable Polypropylene Case – 420 x 200 x 230mm
873853 – National Workplace First Aid Kit Refill
ELECTRICAL TRADES FIRST AID KIT (Suitable for Telecommunications Contractors)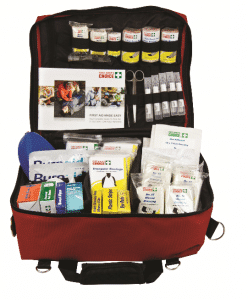 This Electrician's First Aid Kit has been made in accordance to the NSW Guide to Electrical Workers' Safety Equipment (Trade & Investment Dept.), and built to match the emergency needs of the tradesmen and their team. The robust design soft case is ideal for keeping on board your work vehicle or for carrying to an emergency situation.
DIMENSIONS: 400 x 350 x 200mm (W x H x D)
STANDARD PACKAGE: 1
Part No. 870979 Description Electrical Trades First Kit Aid