Washdown Resistant ToughWash Labels and Signs
Specifically designed for the Food and Beverage Industry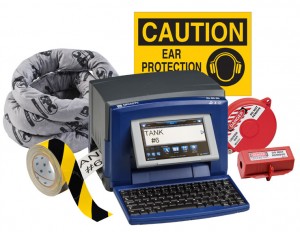 Food and beverage production is one of the most difficult and demanding environments for workplace safety products and identification. Harsh wash down cycles, chemical sanitizers, and constantly wet environments present reliability challenges for the products designed to keep your employees safe. In order to meet these challenges Brady's R&D team have designed unique materials from the ground up.
ToughWash materials are engineered for the rigors of typical wash-down cycles used in food and beverage processing. Brady have a complete wash-down lab in their facility and have tested the products against a wide range of wash-down temperatures and pressures over hundreds of cycles. They put the ToughWash signs and labels up against common sanitizers, harsh scrubbing and high pressure sprays. The end result? Some of the most durable signs and labels you will find.
ToughWash Metal Detectable Signs
Our flexible B-854 ToughWash sign material is metal detectable in addition to being highly durable in wash-down cycles. It is developed with an integrated metal detectable element so common detectors will detect sign fragments during the QA or production process. Furthermore, this design will not delaminate and split into layers like other products, reducing the possibility of contamination. You can use this material with some of our most popular powerful and versatile printing systems to design and print your own custom signage on site.
Check out this video: Brady | ToughWash | Metal Detectable Washdown Resistant Labels | B – 854 | Overview
Improve the Safety of Your Entire Facility
Brady's product selection isn't only effective for wash-down scenarios. Brady's foundation is built on improving the safety of your entire facility. From safety products like, lockout/tagout and spill absorbents, to ID solutions like pipe markers and floor tape, we can help you improve of your facility's safety.
Brady offers a broad range of printing solutions for the ToughWash material: Download the Food Safety Starts with Workplace Safety brochure (File size: 7.65MB)