Tough on the Outside. Smart on the Inside. 2 Year Warranty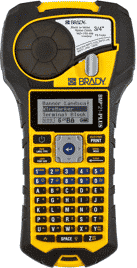 The BMP®21-PLUS handheld label printer combines a tough exterior with smart printing capabilities for wires and cable labels, terminal blocks, patch panels, flat surfaces and much more. It is the ideal Brady label maker for many industrial identification needs.
Extremely rugged and durable
Drop tested portable printer, super rugged with molded rubber bumpers provides protection from falls.
Long life rechargeable lithium-ion battery (not included with BMP21-PLUS)
Ergonomic, centre balanced label printer with grab and go ridges grip for easy handling
Ergonomic cutter and label grabber, holding the label after cutting, preventing it from falling out
Heavy-duty magnet accessory and lanyard for hands free printing
Easy to use
2 line LCD display provides clear visibility
ABC keypad, graphics library, hot keys and menu functions for fast label creation
Smart Cell technology for automatic label set up and automatic formatting for wire wraps, terminal blocks, patch panels, cable flags and general labels
Multi-functional accessory with magnet, flashlight and retractable printer stand for easy handling
Engineered Long Lasting Material Quality
Prints durable true-sized 6.35 – 19.05mm wide identification to maximize amount of data
Text size 6pt to 40pt font
Adjustable length labels using the high performance continuous material
8 different industry specified materials that designed to last
Introducing the BMP®21-PLUS Label Maker Video.
---
Categorised: 2014 and Prior$html_tag>