A sign is: "An object that announces the presence, or occurrence, of something".
Having the right signs that comply with the right industry (and legal compliance) standards is vital for all businesses. Whether they are safety signs notifying workers of what they need to be aware of, to general workplace signs that point out exits and toilets, each workplace needs to ensure they meet all requirements of OH&S and general compliance.
Jabac has Australia's leading range of custom workplace signs and visual workplace communication aids on the market. If you can think of a sign, then chances are we have it in stock and can ship to your door within 24-48 hours. Whether you a building a new construction site, or need to review and overhaul your existing site OH&S signs, our expert staff can guide you through the maze that is your safety and signage requirements.
Ask us for a free no obligation site survey » (we check out your site/workplace and let you know what's needed)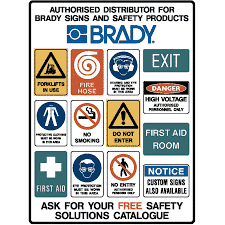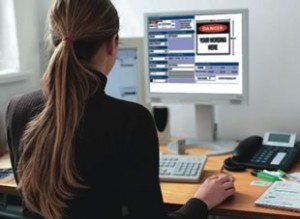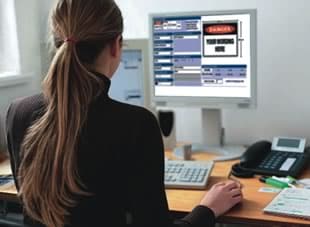 Custom Signs
As times and technology advances, so do individual requirements. Whether you've got a new product coming online, a new construction site or simply want something different, Jabac's ability to supply custom workplace signs and customised labels is second to none in the country.
Featuring rapid turnaround times and excellent economics, we can customise the right workplace sign or safety sign for your requirements. Signs for walls, poles or freestanding signs. Metal, poly or vinyl signs available. Call us on 03 97200 700 or email info@jabac.com.au for a quote.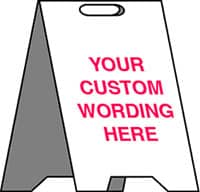 Applications
Construction Signs
Haz Chem Identification
Asset Labels
Barcode Labels
Product Rating Plates
Test Tags
Good Quality Custom Signs, and Fast
You name it, we can customise it
When you need good quality fast
One offs and ongoing
Safety Signs
Identification labels, etc
The Importance of Workplace Safety Signs
Safety signs are essential in every industrial, office, and public space. These highly visible workplace signs should be prominent and easily noticeable at all times, both during the day and at night. They are the best way to identify potential safety concerns to employees and visitors to your workplace. The types of workplace safety signs available depend on the type of work you do, the industry you operate in and the environment you operate in.
Australian safety signs are classified into 6 general categories to apply a standard design across most similar jobs. Knowing the exact types of signs required by your workplace and what you require for your industry helps you identify what you need to comply with the workplace law. This allows you to buy workplace signs that meet the regulations laid down by your state or the federal government. You need to comply with local and federal laws when it comes to the use and maintenance of your signs. It is not uncommon for states to have different regulations regarding the design and placement of workplace safety signs within the workplace.
Industrial safety signs are manufactured using different materials depending on the type of hazard your workplace faces. Some signs are designed to withstand sharp objects whereas others may be prone to damage from sharp edges. A good example is the steel-frame sign which can take a heavy punch but withstand the impact of sharp edges. There are safety signs for the workplace that are meant to withstand fire but may be weakened against fire. This means you should always check these signs before placing them in your industrial environment.
          
When it comes to first aid signs and emergency measures, the list of possible safety signs is endless. Your safety signs must indicate a warning or advisory system and should be placed near accessible first aid supplies. These first aid sign should be easily readable and present a clear message. There is a general consensus that the most effective first aid and warning system are the large flat or overhead sign that is located either at the entry or exit of the facility. The most effective hazard sign is the safety sign that is located directly in front of the hazard that a person can see and identify.
The most common hazard warnings include the "danger" or "dangerous" and "fire" safety signs. These signs may appear on the same sign or they could be placed in different locations within your facility. The most effective safety signs are those that are easily read and understood. The mandatory sign is the first warning sign that a worker should be aware of. All employees should be trained to follow the mandatory PPE safety sign in the workplace.
There are other important types of hazard signs but two types are the most often used. These are the prohibition signs and the emergency signs. There are other types of hazard signs and warning signs such as those for fire, falling objects, hazardous materials, electrical dangers, explosion hazards, and others. In order to comply with all the safety requirements of your workplace, you should make sure that all of the workplace safety signs and warning signs are properly and appropriately installed and positioned
At Jabac we have the widest range of legends for you to choose from to ensure you can create a safe, well identified facility. Our range of custom safety signs is designed to meet Australian Standard 1319 which outlines specific parameters for safety signs in an occupational environment.
     
Understanding Australian Standards 1319
This standard sets out the requirements for the design and use of safety signs intended for use in the occupational environment.
These safety signs are designed to regulate and control safety related behaviour, to warn of hazards and to provide emergency information including fire protection information.
Choosing signs to suit your application & complying with Australian standards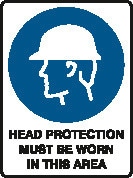 Mandatory signs
These custom signs specify an instruction that must be carried out. Symbols (or "pictograms") are depicted in white on a blue circular background. Sign wording, if necessary, is in black lettering on a white background.

Danger signs
These signs provide warning when a hazard or a hazardous condition is likely to be life-threatening. The word "Danger" is featured inside a red oval inside a black rectangle.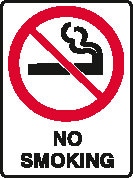 Prohibition signs
These custom signs specify behaviour or actions which are not permitted. The annulus and slash is depicted in red over the action symbol in black. Sign wording, if necessary, is in black lettering on a white background.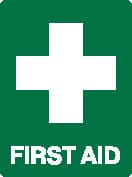 Emergency information signs
These signs indicate the location of, or directions to emergency related facilities (exits, first aid signs, safety equipment, etc). Feature a white symbol and/or text on a green background.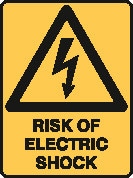 Warning signs
These signs warn of hazards or a hazardous condition that is not likely to be life-threatening. The hazard symbol is black on a yellow background and a triangle is depicted around the hazard symbol. Sign wording, if necessary, is in black lettering on a yellow background.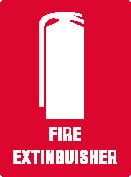 Fire signs
Advise the location of fire alarms and fire fighting equipment. They contain a white symbol and/or text on a red background.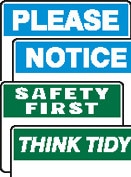 General information signs
These signs are not referred in AS1319, however are available due to popular demand. They communicate information of a general nature and often refer to Housekeeping, Company Practices and Logistics.
Safety sign viewing distance guide
Safety signs should be large enough to view without straining the eyes when communicating safety messages to employees and/or visitors. Therefore, choosing the size of a sign is more than fitting it to the space you have available.
In order to comply with AS 1319, you must consider the environment, lighting and viewing distance – these factors will determine the size of safety sign required to suit your application.
The recommended minimum sizes as per AS 1319 are as follow. For a pictogram and worded sign in a factory or work environment, where lighting is good and the sign will be mounted in a reasonably prominent position:
Emergency Information Signs
Emergency information signs indicate the location of, or directions to, emergency related facilities such as assembly or muster points, first aid equipment, safety equipment, etc). An emergency information sign features a white symbol and/or text on a green background.
Below is just a few types of emergency information signs. We have many more legends, sizes and materials. Contact us for more information or to request a catalogue. Or head to a request a quote page for custom workplace signs.
First Aid signs
450x600mm Metal 835330
450x600mm Poly 832185
300x450mm Metal 836574
300x450mm Poly 835331
225x300mm Metal 840045
225x300mm Poly 840044
180x250mm Vinyl Label 838903

Emergency Telephone sign
450x600mm Metal 843185
300x450mm Metal 832381
300x450mm Poly 835340
225x300mm Metal 843186
250x180mm Vinyl Label 843009

MSDS located here signs
600x450mm Metal 841312
600x450mm Poly 841311
450x300mm Metal 841313
450x300mm Poly 835181
300x225mm Metal 841315
300x225mm Poly 841314
250x180mm Vinyl Label 838628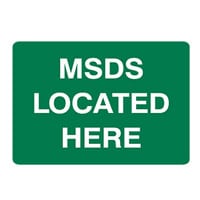 Emergency eye wash sign
450x600mm Metal 832190
450x600mm Poly 835321
300x450mm Metal 832193
300x450mm Poly 835322
225x300mm Metal 841538
225x300mm Poly 841537
180x250mm Vinyl Label 838677
600x450mm Metal 832491
600x450mm Poly 835365

Emergency shower and eye wash station
900x600mm Metal 844906
600x450mm Metal 832379
600x450mm Poly 835326
450x300mm Metal 841541
450x300mm Poly 841540
300x225mm Metal 842760
300x225mm Poly 842707
250x180mm Vinyl Label 843182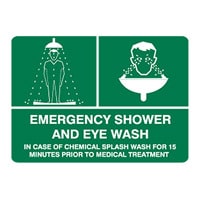 OHS and Safety Signs
Providing market leading workplace safety signs is our passion. Contact us to find out exactly what you need and where you need it, or explore our huge range of safety signs purpose built for all types of working environments.
All workplaces / sites require general direction and operation signs to ensure an informed workforce, not to mention a smooth operating environment. Jabac has Australia's leading range of workplace signs to suit all needs.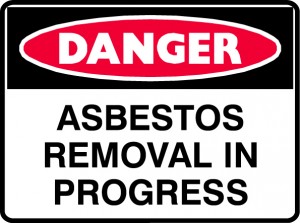 Office and Warehousing Signs
All offices and warehouses need to notify staff directions, rules and things to observe throughout the workplace. From exit signs, fire safety signs, and no smoking signs, Jabac is your number 1 source for workplace signs at the office.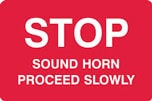 Customised Signs
Many times, an off the shelf solution just won't cut if for some requirements, that's why Jabac is Australia's leading manufacture of custom workplace signs. With rapid turn around and great prices, you can ensure your workplace gets the best safety signs!