TSC Desktop Label Printers
If you're in the market for a desktop label printer that offers you more features and performance for the price, you'll quickly discover that TSC printers – from top to bottom – clearly outpace the competition. TSC offer a wide range of printers tailor-made for almost any desktop application – from patient ID bracelets, shelf labels and event wristbands to voter ID cards, and postal delivery labels. TSC label printers are loaded with standard features that our competitors often price as options – or don't offer at all.
You'll enjoy the benefits of a label printer that is not only rugged, dependable and economical, but also easy to set up, load and operate.
TDP-225 – SMALL DIRECT THERMAL LABEL PRINTER AND RECEIPT PRINTER WITH BIG FEATURES.
Deliver high speed 2-inch format direct thermal labels and receipts that are crisp and clear. It's ideal for retail and other labeling applications.
TDP-225W – DIRECT THERMAL WRISTBAND PRINTER.
The most cost effective, simple to use, solution for printing medical, government and entertainment wristbands.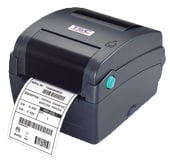 TTP-245C SERIES – THE HIGH-PERFORMANCE AT LOW COST SMALL FOOTPRINT THERMAL TRANSFER DESKTOP PRINTER.
Durable, reliable and fast, the TTP-245C generates 4-inch-wide labels, tags or receipts at fast speeds, offering a price-performance combination that is unmatched by other desktop thermal barcode printers on the market. Uses industry standard ribbons on half-inch notched cores.