Card Printers
Jabac carries two types of card printers: Zenius and Primacy. Each card printer is easy-to-use, eco-friendly, and cost effective.
ZENIUS » Colour Plastic Card Printer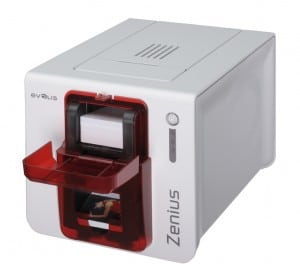 The Zenius is a compact single sided card printer.  It connects via USB and has automatic ribbon detection.  This is ideal for small runs of cards or personalising pre-printed cards.
The Zenius comes with the CardPresso software which can be used on Windows or Mac operating systems.
Complete Starter Package – $1600 + GST
The Zenius Classic Complete Starter Package includes:
Zenius plastic card colour printer
Two year warranty
1 colour ribbon
50 blank white cards
CardPresso XXS Software
Starter cleaning kit
USB connection
Zenius Low Production Cost
| | | | | |
| --- | --- | --- | --- | --- |
|  Model | Type of card | Ribbon cost/card | Blank Card cost/card | Total Cost per card +gst |
| Zenius | Single side – Colour | $0.49 | $0.25 | $0.74 |
| Zenius | Single side – Mono Black | $0.02 | $0.25 | $0.27 |
PRIMACY » Single Sided or Dual Sided Colour Card Printer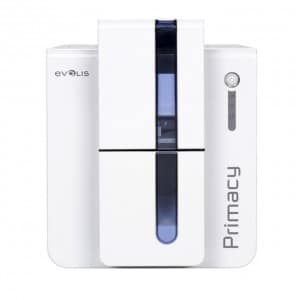 The Primacy is a high-end card printer that is easy-to-use, flexible and fast. It comes standard with both USB and Ethernet connections to enable networking out of the box.
The Primacy can be purchased as a single or dual sided card printer.  The single sided Primacy can easily be upgraded to dual sided.
Another key feature of the Primacy is the modular encoding capabilities. This allows various encoding options to be fitted to the Primacy at any point.
The Primacy Starter Package – $2250 + GST
The Primacy Package includes:
USB & Ethernet connection
3 Year Warranty
Starter Cleaning Kit
eMedia Card Design software included with free EXCEL connection
Print cycle for full colour 1 side = up to 210 cards per hour
Print cycle for single colour 1 side = up to 850 cards per hour
Options & Accessories
Available Colours: Fire Red & Brilliant Blue
Upgrade kit for dual-sided printing
Encoding options can be combined, factory ordered or upgraded on-site with additional modules: magnetic stripe encoder, smart contact station, smart encoding unit, contactless encoding unit
USB Encoding over IP through additional USB Net Server module upon request
Security Locking system to prevent access to the printer and consumables (cards and ribbons)
Primacy Low Production Cost
| | | | | |
| --- | --- | --- | --- | --- |
|  Model | Type of card | Ribbon cost/card | Blank Card cost/card | Total Cost per card +gst |
| Primacy | Single side – Colour | $0.39 | $0.25 | $0.64 |
| Primacy | Single side – Mono Black | $0.02 | $0.25 | $0.27 |