Fibre Optic Labels
Jabac offers a wide range of products to Label, Mark and Identify all things Fibre Optic. We offer Label Printing Solutions for both Workshop and On-Site, Specialised labels, Warning signs and Labels, In Pit Tagging Solutions right through to Fly lead and Patch Panel Labelling
Printing Solutions
We can help you with the best portable label printers to suit your fibre labelling requirements. Whether you want the smallest most robust on the market BMP21-PLUS or the Medium size work horse BMP51. To the Large Industry leading BMP71 (replaced the TLS2200). Jabac has Australia's best machines for your needs. You may be stuck in a hole laying cables in the ground, or on the 20th floor of a new apartment development, our portable labelling machines are the most robust available today.
Brady Portable Printers are lightweight and easy-to-use
Brady offers Industry leading materials
Self-Laminating, Polyester, Nylon Cloth, Vinyl, Flag Labels
Large range of sizes from 6.35mm Width to 50mm (Depending on machine used)
Excellent Technical Support
Brady now offer World competitive pricing for all models
Demonstration models available at all times
BMP21-PLUS | BMP51 |BMP71
Jabac carry all printers as stocked items
Jabac stock all the popular materials & sizes
In House Label Printing
Jabac has full in house printing capabilities for all your Fibre Optic labelling requirements. You supply us with a spread sheet and we will do the rest.
Specialised Fibre Optic Labelling & Signage
Optical Fibre Warning Label >> 55 x 90mm Self Adhesive Warning Label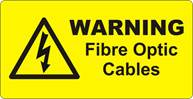 Self-Laminating Labels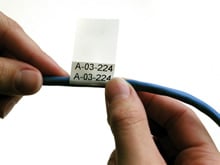 Cable labels are extremely important for keeping your wires, network, voice and data lines organised and running effectively and in particular the very popular self-laminating label
Self-Laminating labels are available for all Brady Printers including Hand Held Portables and Bench top machines. There are a variety of sizes to suit most applications they are also available in sheet form to suit Inkjet & Laser printers.
Fibre Optic Flag Labels
The increasingly popular Flag label is available for both the BMP51 & BMP71 printers.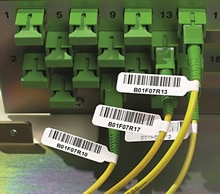 In Pit Identification
Jabac offers a variety of In Pit Fibre Optic Identification including the Brady Laminat™ Tags which are suited for tough environments the labels are printed separately and fixed onto the Laminat™ Tag the laminate is then placed over the entire surface area ensuring a fully protected label.
We can supply Stainless Steel Tags available in various sizes they can laser etched or supplied plain, Polyester Tags are a popular low cost solution that can be hand written.